Don't let anyone tell you otherwise: If you can make it in Los Angeles, you can make it in New York. (It's not the other way around).
With a population of about 4 million, LA isn't a city for the mild-mannered. It's a culturally diverse landscape of big personalities, hustlers, dreamers and people chasing after those people. And all of these storylines intersect and unfold on backlots, crowded freeways, in old apartment buildings and offices, shiny new condos and lofts, spacious mansions and quaint bungalows.
1. THE BIG ONE COULD HAPPEN ANY DAY
Everything in LA is on shaky ground, from the weekend box office numbers to what's happening deep below ground level. The last major earthquake – in 1994 ¬– caused billions of dollars in damage. Longtime Angelenos and scientists say LA is due for another big one soon. Keep shoes in your bedroom if you have to make a quick, disoriented escape in the middle of the night and have an earthquake preparedness kit at home. (Yes, seriously.)
2. THE WEATHER IS AMAZING, TRULY AMAZING
Despite the ongoing, long-lasting drought, Los Angeles has damn-near-perfect weather. (Except for the San Fernando Valley where it can be 10 degrees hotter than the rest of the area.) It's a repeated pattern of warm days followed by cool nights. Rain comes mostly during the winter. When a major rainstorm happens, Angelenos drive either haphazardly or like a grandma behind the wheel of a 1989 Pontiac.
3. YOU'RE COMING FROM THE GYM OR PRETENDING YOU JUST DID
In the late 1960s, former California Gov. Arnold Schwarzenegger and a bunch of muscle heads pumped iron on the beach in Venice. Today there are boot camps, Pilates studios and gyms in every nook and cranny of LA It's not uncommon to hear people say they're doing a major juice cleanse or they have three gym memberships or eat one cheat meal a month. In LA, six-pack or eight-pack abs are standard equipment. So pack your exercise apparel.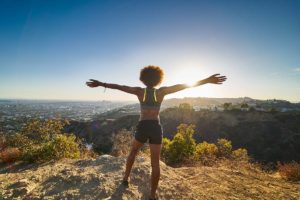 4. THE RULES OF ENGAGEMENT
If you're single, LA is a good place to meet actors, songwriters, showrunners, Silicon Beach startup founders and personal trainers to the stars. Treat dating in LA like a trip to Baskin-Robbins (which coincidentally was founded in the LA suburb of Glendale). Try many flavors until you find the one that sticks. Avoid offers of hiking dates and opt for an initial coffee date or a happy hour cocktail. Why? Unless you're in great shape, you end up huffing and puffing, and that's not very appealing. Plus, if you don't like the person, you've spent an hour or longer with them when a quick coffee-and-run could be the best bet.
5. BRING BUSINESS CARDS
You might run into your next boss at a party, your next YouTube collaborator at a coffee shop, a casting agent who likes your look or the love of your life. Like in the movies, those magic moments that radically change your life for the better happen in La-La Land.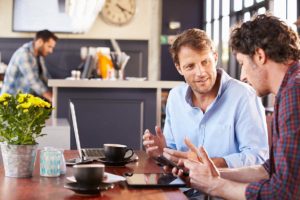 6. IT'S LARGER THAN YOU THINK
The City of Angels' origin story goes back to Sept. 4, 1781 – centuries before it exploded into the 500 square miles of city we know now. If you time it perfectly during the cooler months, you can go skiing in the mountains in the morning and be able to catch dinner and a sunset at the beach.
7. NO ONE GETS TO THE BEACH IN 20 MINUTES…
Unless they live near the beach. So you want to live near the beach, right? Think again unless you're coming to LA with a money tree that's constantly bearing Benjamins. One-bedroom apartments at the beach aren't cheap. The urges for sun and beach fun likely will turn into once-in-a-blue-moon visits to Malibu or Santa Monica or Hermosa Beach.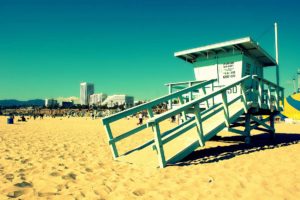 8. LA HAS A SUBWAY
While not as complex as New York's subway grid, LA's Metro Rail system began service in 1990 with one line before expanding during the next 25 years with other lines. (An expansion of the system is under construction into the next decade.) Light-rail service between Santa Monica and Downtown LA is slated to start in 2016.
9. PAY ATTENTION TO PARKING SIGNS
LA has notoriously tall, almost laughable parking signs. Read every single word. If you don't, you risk a pricey ticket for simple violations like not moving your car to the other side of the street on street sweeping day or parking in a permit-only area.
10. ANGELENOS LIKE TALKING ABOUT DIRECTIONS
Most Angelenos spend hours a day stuck in traffic. So it makes sense that they would want to know how you got from Point A to Point B. As a newbie, use the word "the" plus the name of the freeway or interstate (as in the 101 or the 405).
11. EVERYONE IS HUSTLING
If you're not moving to LA for a job, getting one can be an endless waiting game. To pass the time and keep a constant supply of money flowing into your pocket, most people have multiple side gigs. It's not uncommon to meet an app developer who also co-owns a shoe line, has a YouTube cooking show, writes a popular blog and DJs at private parties in the Hollywood Hills.
12. ALL THAT GLITTERS ISN'T GOLD
Always read the fine print. That "free" workout or facial or coffee isn't free. When a real freebie comes along (like free street parking or a yoga or meditation class), you'll be grateful.
13. PREPARE FOR TRAFFIC
Once asked the best way for a young actress to get to into Hollywood, actress Bette Davis said, "Take Fountain." That old trick still works because Fountain is an east-to-west avenue and parallels the often-congested Sunset and Santa Monica boulevards. Getting into the city now means getting cozy with your favorite navigation app or taking Uber or Lyft as needed.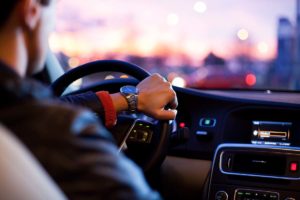 14. BE COOL
You may run into your favorite Academy Award-winning actor at The Grove or an ArcLight movie theater or on Abbot Kinney. Just because they're there doesn't mean they are available to you. Try to hold back on asking for a selfie.
15. FIND YOUR TRIBE
Sure, you might know friends of friends who live in LA, but that doesn't mean you'll often see them. Angelenos tend to stick to their neighborhoods to avoid driving. So put yourself out there, make new friends and explore the city.
16. GET INTO THE SPIRIT
You can dabble or get serious in whatever dogma you'd like. (Do the Lakers or Dodgers count?) On a serious note, all of the major religions are well. Scientology has an outsized presence here that you can't help but notice. LA is also home to several notorious cults, so keep your guard up.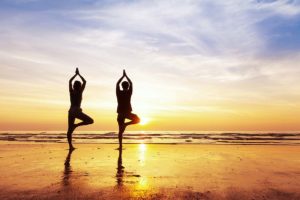 17. NETFLIX AND CHILL
Nope, not the way you're thinking. Cannabis isn't legal in California, but that hasn't stopped the city's creative types and others from getting medicinal weed cards and chillin' after a workweek or starting the day with a smoke. (As for Netflix, the streaming service has offices in Beverly Hills.)
18. DTLA REBIRTH
For decades, LA's downtown was dead, but now it's going through a major revival spurred by projects such as the FIG at 7th shopping Center, Walt Disney Concert Hall and L.A. Live entertainment district. Along with gentrification, the area has also seen an increase in crime.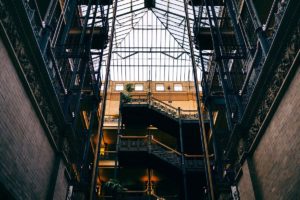 19. A CITY OF EXTREMES
You may see a shiny white Bentley with a hanging bag of clothes from Tom Ford zoom by a camp of down-on-their-luck homeless people living under a hodgepodge of shopping carts, discarded blankets and bags of aluminum cans. And speaking of the latter, don't be fooled: LA has a major homeless problem.
20. BE CLEAR ABOUT WHY YOU'RE MOVING
Los Angeles can be whatever you want it to be, from a Zen retreat to a nightly drug-fueled party. Keep in mind the lines from the 1990 film, Pretty Woman:
"Welcome to Hollywood. What's your dream? Everybody comes here. This is Hollywood, land of dreams. Some dreams come true, some don't, but keep on dreamin'."
BY: Marcus Harper, June 5, 2017
About Marques Harper
Marques is a Los Angeles-based writer and Fashion Editor at the Los Angeles Times.